From team member to owner and Tims Camps Champion
---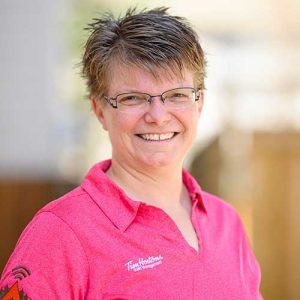 Pearl Hystad once qualified to send her own kids to camp; now she's working to get more youth into the program.
Serendipity—and a booming laugh—brought Pearl Hystad to Tim Hortons.
She was a single mother of two looking for work. Her first job as a teenager was at a burger joint and she thought she'd return to flipping patties when a full-throated guffaw echoed from a Tim Hortons drive through. It came from Mike Reid who, on top of serving customers, also happened to be the owner. "I felt the joy in the building and Mike's vibrant personality," she explains.
That was 18 years ago. Pearl applied and has gone from team member to manager, trainer, and is now an owner herself. From the beginning, she was attracted to Tims Camps. Today she is among the Foundation's most vocal and active champions.
It's a passion born of her own experience. "When I started at Tim Hortons, we were living in subsidized housing. I was the mom facing economic challenges, I was the mom that didn't know how, or if, she'd pay the bills that month," she explains, drawing a personal parallel to many of the families of youth who attend Tims Camps. "I understand what they're going through. It's a feeling of helplessness."
As a team member, Pearl's own kids went white water rafting at Kananaskis—an experience she says she'd never have been able to afford at the time. She appreciates what these experiences mean to families focused on getting by.
"To now be a part of something making a difference is truly amazing."
"I wanted everything for my children and had nothing except love to give them," she reflects. "Love is amazing, but there is no amount of love that will pay for camp."
To ensure others have that same opportunity, she reached out to a school in her old neighbourhood in Calgary, one she says that it full of "children who've drawn the short straw." Every time there was an open spot at camp, she'd find a student at that school to fill it. In that way, she's helped more than 10 youth discover new skills and reserves of strength. "We are giving them their wings," she explains of the youth who progress through the multi-year program. "The older campers getting ready to graduate high school, after their canoe trip and all the challenges, they discover they can accomplish anything."
When Tims Camps launched a pilot project this summer offering high school credit to Alberta students learning outdoor survival and leadership skills, Pearl jumped at the opportunity to play a role. After spending their summer immersed in online learning with Tims Camps facilitators, students were invited to Tim Hortons Children's Ranch to demonstrate their new skills and build relationships. They assembled at Pearl's restaurant where she greeted them with breakfast and gift bags full of back-to-school supplies and bear bells for their time in the mountains.
It's all part of what Pearl loves about Tim Hortons and Tims Camps. She's come so far—but she hasn't done it alone, getting help from her husband, four children, colleagues at Tims and other family and friends along the way. That's what she wants for every young person at Tims Camps: the opportunity they need to achieve. "I get that part of my story sounds amazing. And I get how many families and youth are close to poverty and homelessness. I've lived it," she reflects. "To now be a part of something making a difference is truly amazing."