About Tims Camps
Who we are and how we make a difference.
Our Mission
We foster the strengths within youth to achieve their full potential and empower them to pursue a life without limits.
−−−−−
Tim Hortons Foundation Camps is a non-profit, leadership development organization that supports kids from disadvantaged circumstances between the ages of 12 to 16. Through a multi-year, camp-based program, they learn skills like leadership, resilience, and responsibility, empowering them to change their stories for the better and ultimately break the cycle of poverty.
With seven camps across North America that run year-round Summer and School Programs, Tim Hortons Foundation Camps invests in youth from every Tim Hortons community, and is entirely funded by restaurant owners, guests, and sponsors through Tim Hortons Camp Day, fundraising events, and year-round donations collected through restaurant coin boxes.
Over the past 45 years, more than 295,000 kids have attended a Tims Camp at no cost to them or their families.
Multi-day, overnight camp experiences are uniquely powerful in quickly building critical skills and strengths in youth. Strengthening social ties and community connections can protect and help young people cope with challenging circumstances.
Whether at camp or back home in their communities between visits – our youth work to build social, emotional, leadership and innovation skills and behaviours like volunteerism and motivation to learn so they become civically and academically engaged, and successfully transition to adulthood.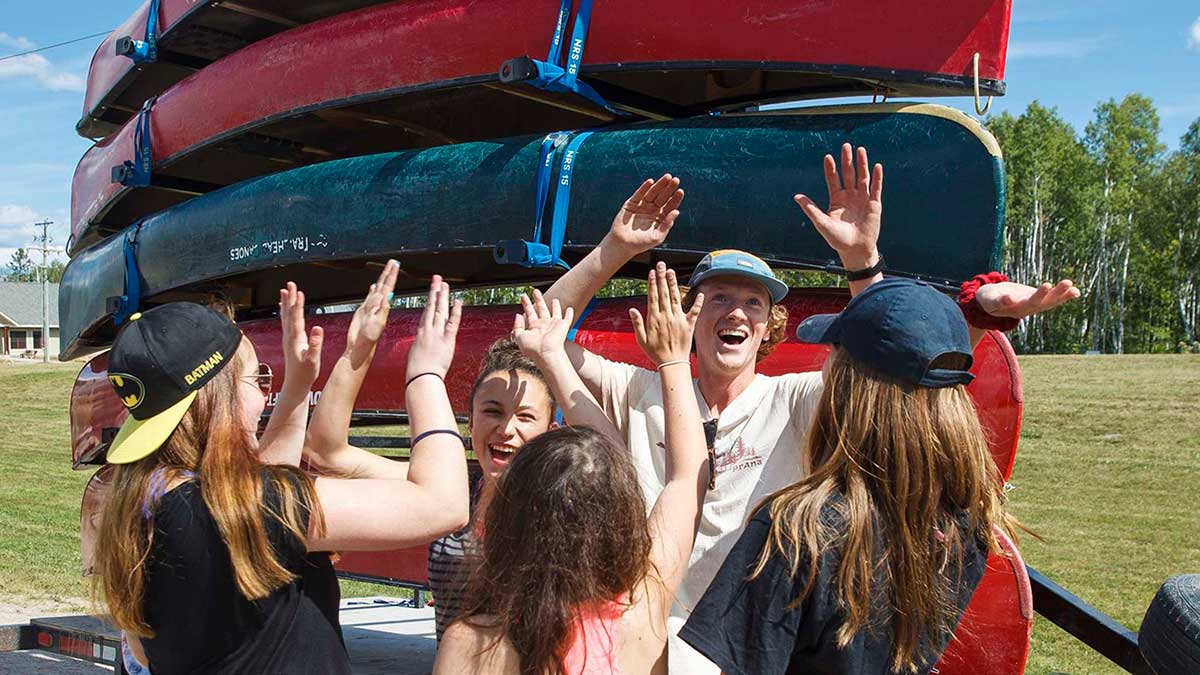 Summer Program
Youth ages 12-16 (9 days, five consecutive summers)
Through our unique five year, camp-based program, youth participate in a variety of increasingly challenging development programs encouraging them to believe in their own potential. Programs include traditional camp activities like archery, canoeing and camping, as well as academic and financial literacy activities that help teach them how to set goals, create a budget, apply for post-secondary scholarships, and build a career path.
School Program
Youth in grades 6-8 (Two, 3-day camp visits)
While the summer program is most well-known, the School Program which takes place during the year (Fall, Winter and Spring), actually reaches more participants. Partnering with schools from low-income neighbourhoods, students participate in two overnight visits to camp during their academic year. Between visits, students work to achieve personal goals that support further development regarding personal wellbeing, academic success, meaningful employment and community connection.
eCamp
Launching Summer 2020 due to the COVID-19 pandemic
Due to the COVID-19 pandemic, in-person camps have been postponed for Summer 2020 for the safety of campers and staff. As an alternative, the Tim Hortons Foundation has launched an all-new Tims eCamp to stay connected with campers and support them this summer with digital camp programs.